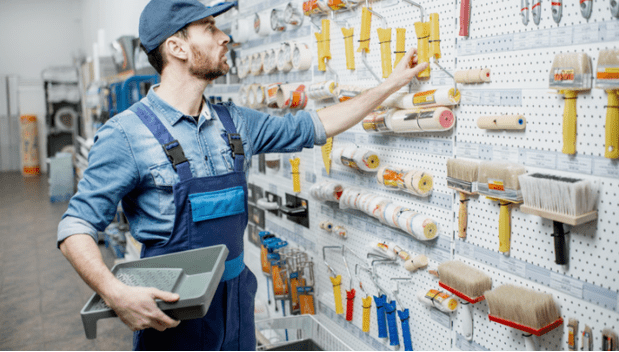 If you are thinking of painting your room by yourself, you can do it. But painting the room and painting the room like a professional are two different concepts. You can paint your room with perfection, like neat, clean, and it has a fantastic look, but you have to think like a professional painter who is actually a master of the game.
Painting a room like a professional actually requires the selection of quality tools that are the professional painters' choice. Professional painters work with quality tools and also maintain the quality of these tools because they are their livelihood. Invest in high-quality tools to replicate the results of a professional.
The following are some tools and their qualities that you must have to consider if you are going to paint your room by yourself and want a neat, clean, and fantastic-looking look.
Paint Brush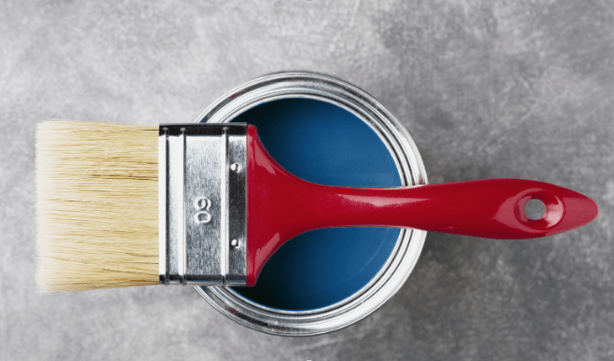 These are some technical considerations that an interior painter goes for. If you have selected water-based paint, you must choose a brush with synthetic bristle, which is made of nylon and polyester, because a natural bristle brush is best for oil-based paint and finishes that will soak up water and go limp.
Choose a tightly packed bristle whose ferrule will spring back on bending. The bristle end is split into quality brushes that release paint correctly and provide a smoother finish.
The length of bristles should vary; this will allow the brush to come to a point for detailed work. At the time of buying, gently pull the bristles until no more than two bristles come into your hand.
A 3-inch to 4-inch flat brush for wide and flat surfaces, and a 2-inch angled brush for around doors and window frames.
Frame: Paint Roller
If you have to paint walls and ceilings, a 9-inch size roller is best. You will find it difficult to handle if you use a larger size, and you will feel tired very soon. The roller that has plastic ribs holds up better. Therefore, buy the roller with plastic ribs. Plastic can be cleaned easily and also last a long time. It is a choice of interior painters.
Roller Cover
As you have selected the roller, now choose the best roller cover as the professional who provides painting services chooses. Before buying the roller cover, examine the surface of the room that you are going to paint.
If the surface is smooth as new drywall, pick up a shorter roller cover (3/16″ or 1/4″) so that paint will be applied evenly. Longer cover is preferred by those who provide professional painting services because it expedites their projects.
However, thick and thin covers also make a big difference. If the surface of the wall you are going to paint is rougher, choose a thicker roller cover. It will hold more paint, which will produce a fantastic result.
If the surface is smothered or you are going to paint the door cupboard, then choose a thinner roller cover. It is also the best choice of interior painter when using oil-based gloss or semi-gloss paints.
Extension Pole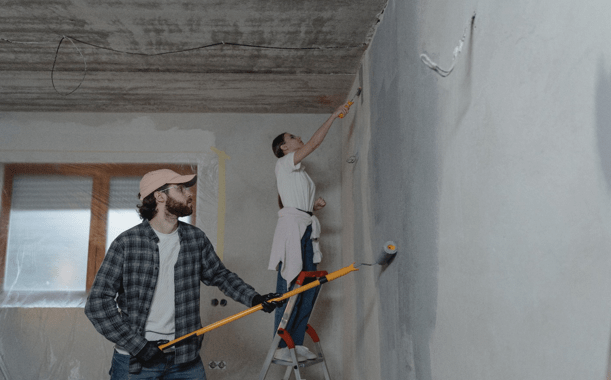 Professional painting services providers use poles that have the following qualities, so you must buy the extension pole that has the following attributes.
The pole must have a locked mechanism so that the roller frame can be held and the pole length can be adjusted. The design of the pole should be such that it can prevent twisting of the inner pole and will not loosen the roller frame.
You must choose the extension pole according to your roller frame because these are designed for specific brands also. The interior painter always chooses the extension pole, which is specialized for the roller frame.
If you have to paint tight spaces, you must go for a size of 1-2 ft.
If you have 8 to 10 ft. walls and a low ceiling, then choose 2 to 4 ft.
However, 4 to 8 ft is the size that most interior painters use.
A Painter's Tray
The type of painter's tray used is determined by the tools you intend to use for painting. Metal painter's tray without liners if you are using rollers. If you have a long project, choose the metal tray. It will be around for a long time.
If you are painting trim or areas with smaller brushes, then you can use plastic cups or disposable plastic containers. That can be carried easily.
It is made of tough, solvent-resistant polypropylene so that there are no scratches on the ground while using the tray.
These tools are the best to produce the result, and that is a neat, clean, and fantastically shining surface in your room. It does not only shine, it speaks. It defines and expresses your sense of fashion louder than your words.
If you paint your room using these best tools, that would be fantastic, but painting the whole home would not be a good idea.
The best tools for painting the whole home are not enough because these tools need painter services from some experienced hands who have the skills to use these products so that an excellent look and fantastic texture will be produced.
Spending money on the tools and ending up with a dull result because of inexperienced hands is not a good idea in any case.
Why would you choose inferior when we are here to provide you with the best? If you have decided to paint your home and are planning to hire professional painters, All Season Painting and More is here to provide you with the best result.
All-season painting and more is best because we provide durable painting products and experienced interior and exterior painting professionals.
We not only offer painting services, but we can also help you choose the best color for your home.
Clean, on time, and on budget are the values which make us different from others.
We always make sure to clean up our work area.
On time: we respect you and your time and your schedule, which is why we complete our project on time.
On budget: once we provide you with an estimate, we stick to it.
So, what are you waiting for to see the results of your dream painting?
Please get in touch with All Seasons Painting and More.