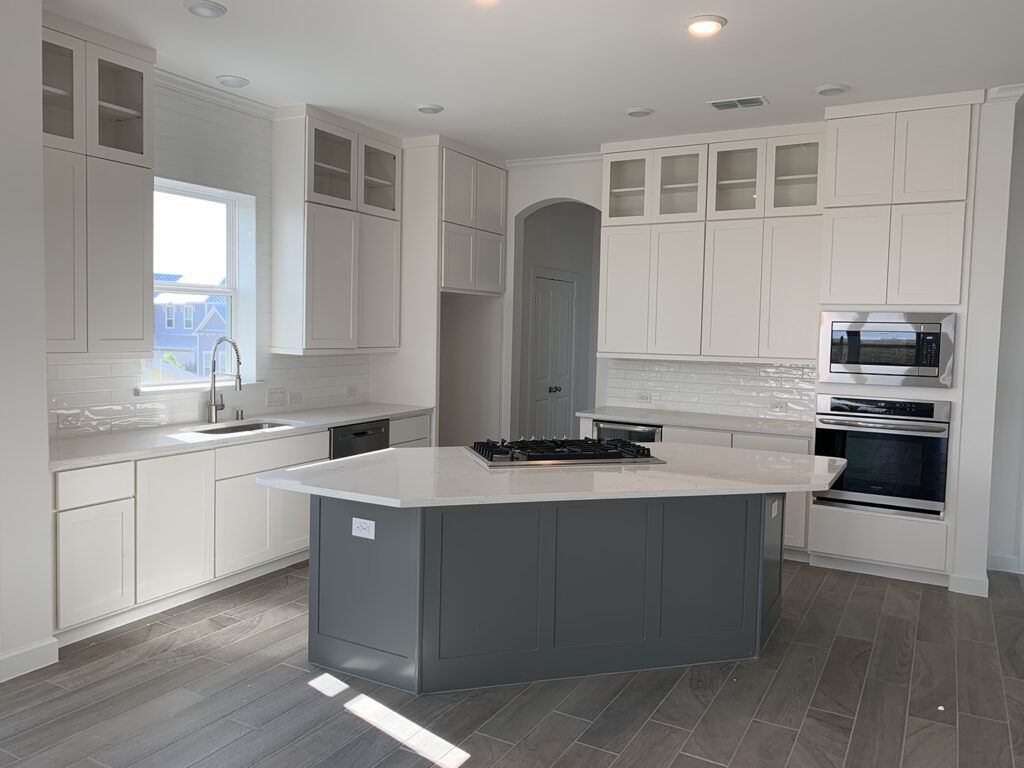 All Seasons Painting & More: Residential Painting Services by our Exterior Painting Contractor
"Houston TX Painting Services: Nestled in the heart of the Space City, our painting services stand as a testament to quality, precision, and Texas pride. We blend traditional Texan craftsmanship with contemporary techniques, bringing walls to life one brushstroke at a time. From the historic neighborhoods of Montrose to the modern high-rises of downtown Houston, our dedicated team ensures every project radiates brilliance. Entrust your home or business to us, and watch as we transform it into a Houston masterpiece."
All Seasons Painting & More: A Prime Choice for Interior Painting Services and Exterior Painting in TX
If you're seeking exterior painting services, look no further than All Seasons Painting & More. We are a team of certified professional painters, known for their exceptional quality and dedication in the field of residential painting. Our Certapro painters are renowned for their meticulous work, ranging from house painting to extensive exterior painting services. With a seasoned team of painters on board, we promise to enrich your living space with colors that bring life to every corner.
Our painting league specializes in both interior painting and exterior painting. Using high quality materials, our team ensures your house painting project is completed to perfection. Our combined expertise has made us the first choice amongst homeowners in League City. We believe that successful painting isn't just about the artwork but also the experience. That's why we are deeply committed to providing responsive and friendly customer service at every step of the way.
At All Seasons Painting & More, we don't just offer residential painting services. We also cater to commercial clients with diverse requests such as services kitchen painting, making us the preferred choice among local businesses. Our team of CertaPro painters ensures that the painting project is completed with minimal disruption to the day-to-day running of your business. Whether it is for your home or business, our team is committed to delivering the best in quality and service.
Homeowners in Clear Lake and League City can now avail our quality home services at affordable rates. Whether it's interior painting, exterior house painting or even kitchen service painting, we cover it all. Our painting league provides top-notch painting solutions in areas including but not limited to Clear Lake and League City, adding color and warmth to homes, one room at a time. Our reputation as trusted house painters in the area serves as a testament to our consistency in delivering superior results every time.
For residents of Clear Lake and League City, we also offer a free estimate for all our home services. This not only gives you an idea of the budget but also assures you of our transparent pricing model. Our free estimate provision enables the homeowners to logically plan out their budget and make an informed decision.
All Seasons Painting & More have carved a niche not only for exterior painting services but also for interior painting services in TX. Our skillful application techniques bring out the true beauty of your space. Moreover, our interior painting is all about creating beautiful and long lasting surfaces, finishes and custom-made textures – all color-coordinated to fit your aesthetic preferences. Trusting us with your painting project means you'll have a hassle-free painting experience from beginning to end.
Experience Our Five-Star Quality Residential Painting Services: An Overview
When you're in need of some fresh color for your residence, you don't want just any old painters from TX – you deserve the best. And indeed, the best is what you get with our experienced painting service at All Seasons Painting & More. We are renowned as not only a leading residential painter but also an exterior painting contractor, known for our unparalleled exterior painting services across TX.
With us, it's not about getting the project done as quickly as possible. On the contrary, our residential painters are committed to providing a service that's worth remembering. Our residential painter team in TX takes the time to meticulously prepare each surface, ensuring optimum longevity and quality in every single project we carry out. Overseeing each project with a keen eye for details, they guarantee a flawless finish that lives up to our five-star quality.
Exterior painting can be a daunting task, with the unpredictable TX weather and varying surface types, but not with our expert team of painters. The exterior of your home is the first thing people notice, and our painters understand the importance of creating a lasting first impression. We use a wide range of environmentally friendly, high-quality paints for each exterior painting project. This ensures that our paints withstand the TX weather, and keep your property looking elegant and fresh for longer.
As a highly rated exterior painting contractor, all our projects undertake a rigorous quality control process, supervised by our expert painters. Despite our already spectacular reputation in the TX region, our aspirations don't stop there. We strive to enhance our residential painting services even further, always knowing there's room for advancement. Our painters constantly undergo training and skill upgrade sessions to ensure that they stay at the forefront of painting techniques and trends.
Ideally, when you're hiring a residential painter, you need one who understands your vision, one who you can trust to execute their task with minimum supervision. That's us. Our painter team possesses an unrivaled dedication to client satisfaction in every project, and our consistency in delivering on this is what sets our painters apart. We comprehend that choosing to repaint your residential property is an investment you've made, and we strive to make that investment worthwhile.
Alongside our superior exterior painting services, we encompass a wide range of other services to cater to your house painting needs. A fresh coat of paint isn't always enough. Our painters provide repair services such as drywall plastering, stain removal, and texture addition to ensure your walls are in perfect condition before adding layers of our high-quality paint. Furthermore, we are experienced in providing wallpaper removal services, making the entire painting process smoother and faster.
At All Seasons Painting & More, we don't just paint your premises. We transform them into an artistic masterpiece. If you're in TX seeking an experienced residential painter or an exterior painting contractor, look no further. Get in touch with us today and let's make your painters' experience an unforgettable one.
Get a Free Estimate: Convenient and Affordable Painting Services
When you want to give your residential property a fresh and new appearance, you can turn to the professionals at All Seasons Painting & More. As a leading exterior painting contractor in TX, our team works tirelessly to provide outstanding painting services, ensuring premium results that satisfy all our customers. But before we get to work, we offer a free estimate that offers a straightforward and honest valuation of the project.
We understand that getting your home painted is a significant decision, and sometimes, it can become quite overwhelming. That's why we make our services as convenient and as affordable as possible. By obtaining a free estimate, you'll have a detailed understanding of the costs associated with your painting project. No surprises, no hidden charges, just a clear and concise breakdown of expenses.
In TX, our reputation for excellent work precedes us. Our team of experts works together to deliver painting services unparalleled in terms of quality and workmanship. We take pride in the work we do, striking the perfect balance between speed and quality. From the initial preparation to the final touches, we work diligently and meticulously to provide results that are simply stunning.
We have a versatile team that can handle any project, regardless of size or complexity. We work with a keen eye for detail and a deep understanding of color palettes and aesthetics, allowing us to provide painting services that surpass expectations. Whether you want a dramatic revamp or a subtle change that enhances your home's natural beauty, we're the exterior painting contractor that you can confidently trust.
Our experience in the field also allows us to work efficiently, ensuring that all projects are completed on time and within budget. We respect your space and time, so we provide a thourough cleaning up after our work is done, leaving your home as clean and tidy as we found it.
At All Seasons Painting & More, we value our customers, which is why we provide personalized services tailored to meet individual needs and preferences. We engage our clients every step of the way, ensuring that your vision and objectives are actualized in the final results. By offering a free estimate, we foster transparency and trust, making us the go-to choice for painting services in TX.
Whether you need interior painting services or you're looking to hire an exterior painting contractor, your search ends with us. Get in touch with us today for a free estimate and let us transform your home into an embodiment of style and comfort. Choose All Seasons Painting & More for hassle-free, convenient, and affordable painting services. Give your home the painting service it deserves, one that guarantees astoundingly beautiful results coupled with an exceptional customer experience.
Selecting the right painting service is essential, and that's why we're here to provide you with hassle-free services. We promise to make the whole process smooth and simple from starting to finish. So if you're in TX and are considering a painting service for your home, consider us, and we promise that you won't be disappointed with our exceptional work.
Exterior Painting Contractor: Your Home Deserves the Best Painting Services
As with all aspects of home maintenance, securing the services of a top-notch exterior painting contractor plays an important role in enhancing the overall look and charm of your house. It's important to understand that there's more to exterior painting than just splashing some color on your walls. The real magic lies in the hands of the painters who meticulously take care of every detail to offer you more than just a fresh coat of paint.
At 'All Seasons Painting & More', we are dedicated to providing professional painting services to homeowners who seek quality and value for their investment. Our team of seasoned painting contractors is highly skilled and trained to transform the exterior of your home by executing a thorough process that ensures a perfect finish every time.
Taking pride in our reputation as a go-to professional exterior painting contractor, we bring a client-focused approach to jobs of all sizes, whether it's a full home exterior makeover or a small refreshing project. We work with you to understand your vision and assist you in choosing the right color scheme that would enhance your home's architectural style and neighborhood character.
One of the key factors that sets us apart from other painting contractors is our commitment to excellence. At every stage of the exterior painting process, you'll witness the professional touch and attention to detail that makes our services highly demanded. From preparing the surfaces, priming, to the final coat and clean-up, we ensure a hassle-free and satisfying exterior painting experience.
Given the exposure to environmental impacts like the sun, rain, and temperature fluctuations, the exterior of your house can take quite a beating over time. Hence, the exterior painting task needs to be performed by proficient professionals capable of ensuring the durability of your home's outward appearance and protection from external elements.
We believe in delivering more than just a painting service. Our aim is to boost the curb appeal of your home and ultimately, its market value. An alluring, well-maintained exterior can create a lasting first impression and a welcoming ambiance for your visitors.
To ensure your peace of mind, we offer a free estimate service that simplifies the planning process for your exterior painting project. Accurate and affordable, our estimates allow you to budget accurately while avoiding unexpected costs down the line. Furthermore, our exterior painting services come with flexible scheduling options to lessen the disruption to your routine, proving we truly understand the needs of a busy homeowner.
So, when it comes time to refresh the exterior of your home, don't settle for anything less than the best. Trust in 'All Seasons Painting & More', and let our team of dedicated painting contractors offer you a superior exterior painting service that leaves your home looking its absolute best. After all, your house deserves nothing less.
Our Working Hours: Your Time is Valuable, So We Paint Around Your Schedule
In League City, time is a luxury most homeowners cannot afford to squander. This sentiment rings true especially when a painting project is at hand. That's where All Seasons Painting & More steps in. We understand that our clients in League City have diverse and demanding schedules. That's why we've tailored our working hours around your availability, ensuring that our work in your residential painting project doesn't interfere with your daily routines. We're not just exterior painting contractors but also timekeepers who respect your time.
One of our guiding principles at All Seasons Painting & More revolves around the idea that 'Your Time is Valuable.' Every minute matters, and we make it our priority to work efficiently and diligently to ensure that your painting project is finished within the agreed timeline. Each day we come to work, we consider your time frame as a pivotal point around which our work schedule revolves. We aim to bring about the desired changes to your League City home in a swift manner without compromising on the quality of our work.
We are located in League City and our clients are our neighbors. We understand the hectic schedules and work ethics that our League City neighbors uphold. We hence adapt our working hours, and project timeline to suit your convenience, always upholding your project deadlines. Our team will work diligently, respecting your time and space to give your home an upgrade that it deserves.
In League City, we have built a strong reputation based on our commitment to excellence and our flexible working hours designed to accommodate your schedule. Here at All Seasons Painting & More, we know that each project entails unique challenges, and we're always prepared to work around them for your convenience. For instance, we can schedule our work early mornings or late evenings, ensuring that our operations don't disrupt your home routines.
At All Seasons Painting & More, we respect your schedule just as much as we value the excellent work we do. This commitment has served us well in all our years servicing League City, allowing us to foster strong relationships with our customers based on trust, integrity, and our unwavering pledge to be considerate of their time. When you engage us for your painting project, it becomes more than just another work for us—it becomes a partnership grounded on respect for your time and our expertise.
In a League City painting project, the timescale of work is just as important as the quality of work. At All Seasons Painting & More, we offer both. Our league of painters in League City ensures that your project is executed in a timely and top-notch quality manner. Remember, your time is valuable, and we consider it our responsibility to ensure that every second counts. So reach out to All Seasons Painting & More in League City today because we paint around your schedule, providing you with excellent exterior painting contractor services for all seasons.
Our Location: Delivering Top Notch Interior and Exterior Painting Services in TX
We're located right here in TX, which allows us to readily deliver top-notch interior and exterior painting services to our valued clients. At All Seasons Painting & More, we're more than just a team of painters; we're a team of professionals who understand the value of a well-executed paint job. It's not just about the paint; it's about transforming a space, elevating its aesthetic, and enhancing its appeal, be it a room in your home or the entire exterior.
Our interior painting services have always been a favorite among homeowners in the city. Why? Because we don't merely paint – we bring your visions to life. It begins with us helping you choose the right color for every room. With a plethora of color options to choose from, this can be overwhelming, but we're here to make it a seamless process. We take into account variables like room size, light direction, and even your personality to pick out the perfect color palette.
Next, comes the paint, the instrument that brings color to life. We use top-quality paint guaranteed to withstand time and everyday wear and tear. Whether wall or trim, our attention to detail is impeccable, and the quantity of paint we use is calculated just right to achieve the perfect finish. And, we do this not once or twice, but every time we take on an interior or exterior paint project in the city.
Speaking of exteriors, we're proud to be a trusted exterior painting contractor here in TX. It's a responsibility we don't take lightly nor do we compromise on quality. In fact, paint is vital in protecting your home against TX's harsh weather conditions, and we ensure our exterior paints serve this very purpose. Of course, that doesn't mean sacrificing on visual charm. As with our interior services, you get an array of color options to choose from for your exteriors.
Furthermore, we aim to make our painting services as convenient and affordable as possible. Want an estimate? We offer it free of charge! Simply get in touch, let us know your painting needs, and we're right there to provide an honest, accurate estimate. We believe in being transparent with our clients, and our estimates reflect that. After all, there should be no surprises when it comes to your home's transformation.
We understand your time is valuable, so we aim to paint around your schedule. You dictate the working hours, and we adhere. Ensuring minimum disruption to your daily routine is one of our top priorities. In the end, it's not just about getting the job done. It's about how you feel during the process and how you feel about the finished product. It's about you!
So, whether you're sprucing up for the changing seasons or merely refreshing your city home's look, trust All Seasons Painting & More. With us, it's always about excellent services, top-quality paint, the perfect color, and your satisfaction. Begin your home transformation journey in TX today.
If you're considering residential painting services in Houston, there are several factors and considerations to keep in mind. Here's a guide to help you navigate the process:
Types of Services: Residential painting can be categorized into:

Interior painting
Exterior painting
Cabinet painting
Decorative or faux painting
Wallpaper installation and removal

Climate Considerations: Houston's climate is humid subtropical. Painters should use materials that can handle high humidity, heat, and occasional heavy rainfall.

Reputation & Reviews: Research potential companies online. Look for customer reviews, ratings, and before-and-after photos to gauge the quality of their work.

Licensing and Insurance: Ensure the painting service is licensed to operate in Texas and has liability insurance. This protects you from potential damages or accidents during the project.

Quotes and Contracts: Always get multiple quotes. When you decide on a service, make sure you have a detailed contract in place that outlines the scope of the work, cost, timeline, and materials used.

Preparation Work: Some companies might require you to do some prep work, like moving furniture or covering items. Others might include this in their services. Clarify this before beginning.

Materials: Quality of paint can significantly affect the outcome. Ask about the brands they use and consider eco-friendly paints if you're concerned about fumes or environmental impact.

Duration: Discuss how long the project is expected to take. Make arrangements if you need to be out of your home during the process.

Warranty: Some companies offer a guarantee on their work. Check if the service you're considering provides a warranty and what it covers.

Clean-up: Clarify if the company will handle cleanup after the project is complete. This includes disposing of used materials and cleaning any paint spills.

Price: While it's tempting to go with the lowest quote, remember that quality often comes at a cost. Balance your budgetary considerations with the quality and reputation of the painter.

Local Expertise: A company familiar with Houston's architectural styles and neighborhood aesthetics can provide valuable insights and recommendations for your project.
By considering these factors and doing thorough research, you can ensure a successful residential painting project in Houston.